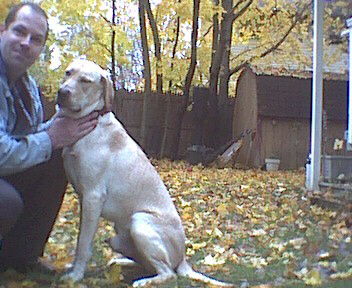 We adopted Buddy from a town shelter in late October,2002. He was listed as a 2-1/2 year old dog who arrived at the shelter after being found on the street with what appeared to be his brother. We took him home and he let us know very early on that he was a blank slate. He knew NOTHING! Couldn't sit properly. No house training. He didn't even know how to walk on a tile floor or steps. Slowly, very slowly, he learned his way around. He discovered how to go up stairs but not going down so every morning we had to drag him down. When he finally learned how to go down. When he discovered this he spent the evening just running up and down the steps.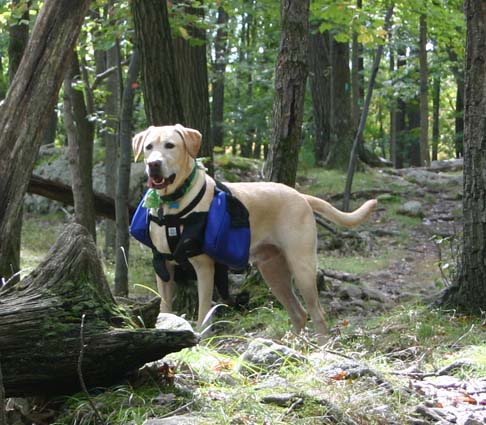 As the warm weather neared, we found out that he has an instinctive distrust of ceiling fans. When we first turned it on, he freaked out. He scooted around the room trying to get away from it. After a minute he ran from room to room looking at the ceilings. Years later, he still keeps one eye on the fan if it moves.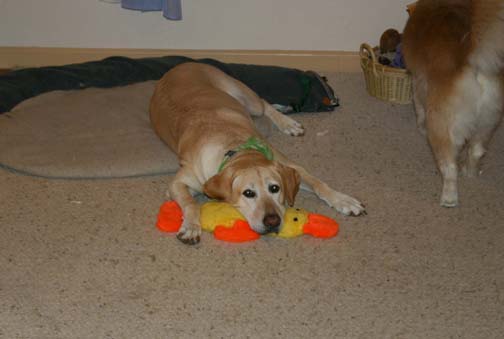 Soon after we got Buddy, we started fostering dogs for LIGRR. Buddy loved every new dog that came in. Some were playmates, while others were just company. Fostering can be emotionally draining for the foster parents but we realized that it was also draining on Bud. After each dog left he got more depressed each time. He would sit in a slouch and drool. We decided that Buddy needed a permanent friend.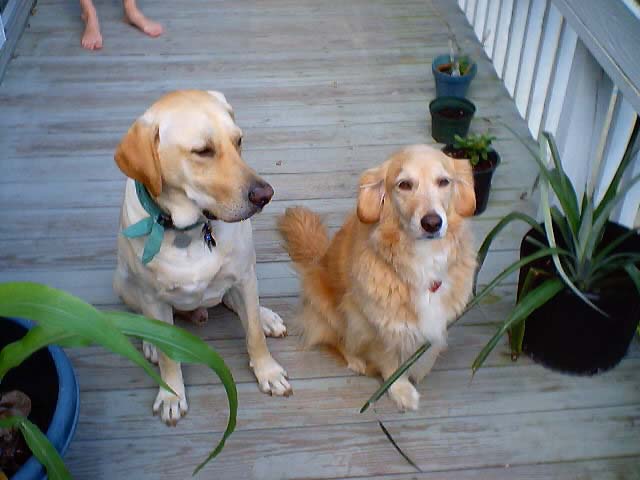 This is where Lily comes in. Lily was found wandering the woods where she had been spotted for two weeks. Each day she would come out of the woods and join a man walking his own dog. She tagged along and spent the morning with him. He gave her a meal, she played with his dog and then disappeared back to the woods until the next day. After two weeks of this routine, the man realized that she was starting to not look so good. He held onto her and called LIGRR. We were the local fosters and our home was available so we took her in. She was given the name Lily by the person who transported her to us because it was a "woodsy" kind of name. She was loaded with ticks, filthy and had stick so entwined with her fur that she was starting to get cut by them.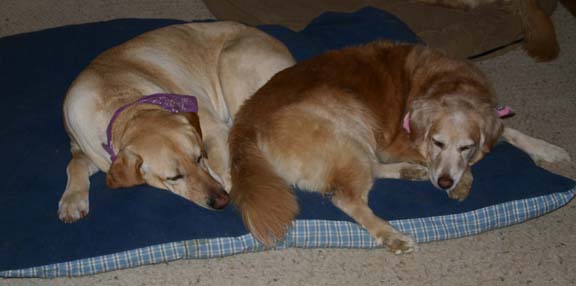 When she got to our home, she was a just another foster and wasn't too happy. She howled the first night to protest her unfamiliar surroundings. It took a couple of days for her to relax. Then one day, she went up to Bubby and gave him a shove and started to wrestle and play. Buddy couldn't believe it! They started to play and chase each other and have been best friends ever since. Even after meeting dozens of other dogs through Golden events and such, Buddy was the only dog that she would ever play with.
When we got Lily, we estimated her age to be seven years old. As the years passed, we re-evaluated her age to be seven. The "Dick Clark" of dogs, she was seven for five years. She always kept the same energy level, the same bounce in her walk, and played with Buddy with the same ferociousness.
She was alsao a hard worker. Lily was a certified Therapy Dog (during her test it was noted on her paperwork that she was "sweet" so there! It's official!) and she has raised a few thousand dollars for Golden Rescue by trading pettings for dollars at local pet supply stores.
In November of 2008, Lily developed a limp that just wouldn't go away. We took her to our regular vet and they diagnosed her with a sprain. A month later with no improvement, we took her to a specialist and he spotted a tumor on her humerus- she had bone cancer. We started her on herbal medication to try to fight the cancer. Val & I were angry at this because Lily has been eating all natural home-cooked food for the last three years so that she wouldn't get cancer- an all-too frequent problem with goldens. Unfortunately, the tumor weakened her leg so much that it broke a week later. She managed to get around well with the broken leg. Given enough time, the leg would heal on it's own, but it wasn't in the cards. The cancer continued to grow.
It seems that every story you hear of some wonderful dog ends with the dog dying, but it's a fact of life that all dog lovers need to face. We live longer than they do. We are going to watch them grow old and die. It's the trade we make for years of unconditional love. On March 30, 2009, Lily died in our arms on a stormy Sunday night. We sent her to the Rainbow Bridge after a half-lifetime of great memories.