Our most recent saves: Casey (Golden Retriever), Candy (Yellow Lab), and Rocky (St. Bernard) - see pictures below
We were called by Golden Rescue to go to a home to evaluate a Golden to be taken into care. The family was moving and couldn't take the dogs. When we got to the home, we were floored! The home was falling apart. They said that they were moving but I couldn't imagine anyone buying this house! Dark and dingy, cracked and peeling plaster. There were two bird cages in the kitchen loaded with filth. Droppings were piled like stalagmites on the cage floors, seed scattered everywhere. The birds' water was a hazy grey with feathers floating on the surface.
Mom took us to the yard to see the dogs. The three dogs lived in two dog houses to one side of the dirt covered yard. The yard was barren. One dog house was no more than a square plywood box with a tarp thrown over the top. We quickly evaluated the dogs as I wasn't dressed for the weather and was getting too cold to work. The dogs were fine and we'd have to work quickly to get them out of there.
We left and parked at the corner to make some phone calls. It was 5 pm on a Saturday before a holiday week. All boarding facilities were either closed or full and foster homes were full or going away for the week. Both of our cell phones were going as our car turned into a mobile rescue headquarters. We called people in out network and called numbers to the other phone to call the next person in the chain. We finally were able to secure lodging for the golden for the weekend but not the two other dogs. The yellow lab was 15 years old and we were worried since it was going to drop to 10 degrees tonight, but there was nothing we could do. We returned to the house and took the golden.
The next day, we made some progress. Lab Rescue would take Candy the 15-year-old deaf lab but we had to get it out to Sag Harbor. Back to the slum house. We gathered the dog and asked the family to change the frozen water for liquid so that the St. Bernard had something to drink. We drove the dog to a vet in Sag Harbor that would care for the dog for a few days until Lab Rescue could take her.
The next day, teh St. Bernard went to Rocky's Rescue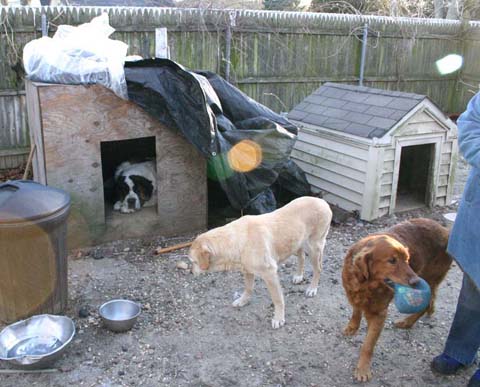 All three dogs and their "shelter"