Sandy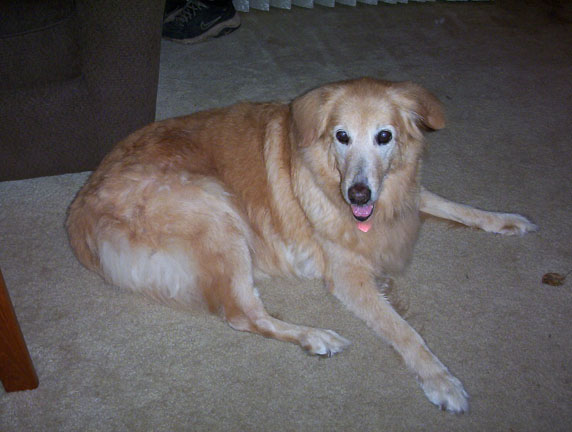 I met Sandy at the doorstep to the shelter a man was bringing her in to be euthanized because she was wetting the floor. To avoid the paperwork and adoption fee from the shelter, I got permission from him to take her on the spot. A trip to the vet and it was clear that the floor wetting was caused by a simple bladder infection. That was cleared up very quickly with antibiotics.
The man told us she was 9 or 10 years old and has had no other health problems. He had gotten Sandy at a garage sale. The previous owner was moving and selling everything when asked about Sandy, the owner offered the dog to the man- what a thorough screening for the new owner of your beloved pet!
Sandy was "very un-adoptable". She was old, had few teeth left and began having seizures on a regular basis. After putting her on anti-seizure medications, she began to lose all ability to move. We brought her to the vet to have her put down. Apparently she had a reaction to the medicine that almost killed her. The vet changed her meds and she was up and walking in three days!
Sandy stayed with us as a fixture for nine months. She saw many other foster pets come and go. At one point there were three other fosters with her and Buddy & Lily- 6 dogs! She liked to spend most of her time laying around but every once in a while she was a "real" dog. She liked slow walks, chased a ball every once in a while (which she could not catch no matter how well it was thrown at her) she even loved to wander around the big field aimlessly when we took her.
One day we got a call from a Lady who said she was Sandy's original owner. She told us that Sandy was actually 14 and not 10. The lady hung up in tears when we denied her a visit because it would be too difficult for the dog to see her old owner and not be able to go home with her. It was sad but the lady gave her dog away to a customer at a garage sale so we didn't feel too bad for her.
Sandy became a "permanent foster" when we realized that her fading health and, at times, impatient personality made her unsuitable to be with someone unfamiliar with her. She was very happy with us. I carried her up the stairs each night. Each morning she wagged her tail vigorously when she realized that she was still alive for another day. She stayed with us for close to a year before her health became too weak.
Rescue dogs should be able to live forever to make up for the terrible life they had until then but the least we ask for is a year- just long enough for them to forget the bad stuff. Sandy got her year and died a happy dog.